Business
How Modern ERP For Manufacturing Can Boom Your Business?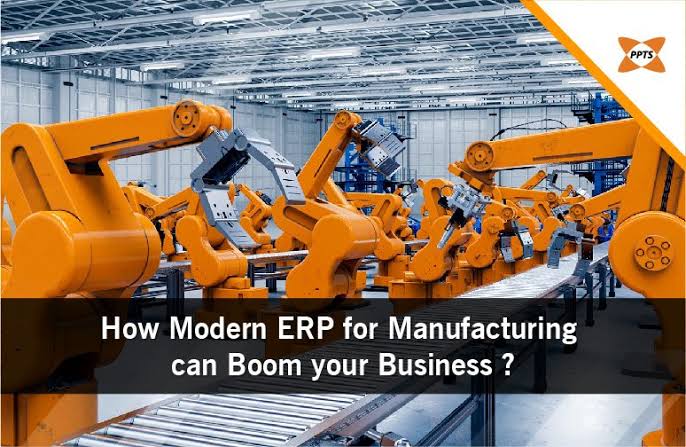 ERPs date back from the 1970s to the late 1980s. Unfortunately, the previous versions failed to recognize the requirements with disjointed coding and failed workflow capitalization. However, the updated ERP for manufacturing is based on flexible coding that offers modern features. Here is how they improve the business workflow.
Easy to collect data
Modern ERPs ensure the information comes to you, so there is no need to manually search through endless data. The system works for you with its workflows, flowcharts, and reports. As a result, you can manage the manufacturing business efficiently. The logistics and manufacturing pipeline work precisely as you want, adding value to the products.
Modern ERPs have a codeless feature that helps create work-related alerts and workflows. Moreover, its modern features and technology will also maintain data integrity. There is no limit to incorporating KPIs, making the ERP customizable to your requirements. You can identify the crucial parameters and employ them in logistics easily.
Understanding employee movements
As a manufacturing business owner, you will realize not every employee is the same or works the same way. Modern ERP allows the managerial staff to completely customize the user screens. Information is available with minimum effort while also preventing access to it. As a result, you can practice control while ensuring the manufacturing processes stay productive.
  The modern ERPs are not only limited to vendor use.

  The upgraded ERP platform provides robust administrative control.

  It ensures continuous movements and improvement in the logistics and tasks.

  The customization property makes managing each employee, stakeholder, and department easy.
Modern collaboration
Modern ERPs are no longer a base tool but offer collaboration and effective communication exchange throughout the manufacturing business. It provides a centralized point of contact with a customizable interface. Furthermore, there is also a requirement to incorporate third-party applications. Such additional features make ERP a unique platform that results in management among the team and employees.
The employees can also use the modern ERP to assess and manage workflow charts. It will increase the quality of work with real-time reports. Furthermore, data management is also improved with excessive room for future improvement. In short, everyone associated with the manufacturing business can use the ERP efficiently.
Read Also: Most Romantic Adventurous Things to do in Dubai
Efficient payment collection
Your manufacturing business is more susceptible to bad debts if the debtors are not making timely payments. It stretches the cash cycle, which delays the vendor's expense. Employing a modern ERP will ensure the debtor's prompt income. As a result, the manufacturing business runs smoothly with a fully integrated system.
ERP provides real-time and quick access to the accounting staff, enabling the payment system to run efficiently. It will record each transaction, facilitating trustworthy audit trails for yearly reports. Lastly, the ERP will also eliminate duplicate transactions and warn the manufacturing business against discrepancies such as fraud.
Enhances cash management
Continuing with the accounting aspect, a modern ERP also efficiently impacts cash flow management and customer service. It will calculate maximum or minimum quantities and lead time based on previous interaction and history patterns. As a result, the stock is managed better to satisfy sufficient demand in the long term.
Modern ERPs are cost-saving solutions that make manufacturing more productive and profitable. Furthermore, it also amplifies the competition, forcing the business to invest in research and development. The system will enable the manufacturing business to grow and adopt a technological landscape like never before. The integration will facilitate the company and the customer.
Collecting accounting data
Modern ERPs are crucial in collecting information for the accountancy system. Accounting ledgers require complete data to output financial reports. An extensive financial management system increases the manufacturing system's health. Due to the contemporary ERPs, stakeholders can make the best decisions based on browsing the researched reports for business insights.
Outdated ERPs did not offer this feature which delayed the decision making processes. Thankfully, modern ERPs collect accurate day-to-day data for a real-time financial assessment. As a result, decisions are taken quickly to complement the market trends for business expansion. The manufacturing business can now diversify, invest, or promote newer products for sustainable revenue growth.
No more delays
Thanks to technology, workplaces are no longer stationary. Furthermore, physical operations are also a thing of the past, with employees working remotely from multiple locations, regardless of time zones and geographical boundaries. Therefore, previous versions of ERP with data centers and large servers are no longer required. Modern ERPs are innovative solutions to minimize energy consumption and save costs and infrastructure expenses.
Alongside technology, the recent COVID-19 pandemic has accelerated modern ERP integration with cloud-based services. Information is now accessible remotely with no physical challenges. As a result, the manufacturing business can now run off-premises without any production delays.
Introduces automation
Evolution in any business integration system is associated with automation, and the modern ERPs are not any different. The upgraded version offers secure databases, flexible stacks, and processes based on resource intuition to eliminate manual tasks across the manufacturing business.
Modern ERPs have automated routine tasks. Thus, saving the mundane duty of manual data entry. As a result, the resources are employed to enhance logistical processes. It improves the finance and production cycle. In addition, errors in inventory management are also reduced. The automation in modern ERPs is indeed boundless across the manufacturing business model.
Minimizes inventory mismanagement
Speaking of inventory, integrating modern ERPs takes managing stock to another level. It is strategically placed at the logistical center of the operations to streamline management across the board. As a result:
  The management capacity increases

  It improves warehouse operations

  The e-commerce stores are integrated well with the platform

  Real-time information/data is available
The information collected is present at a centralized location with limited employees having access to it. It prevents sensitive data leaks and contributes significantly to managing internal logistics. Furthermore, any data breaches can be authentically linked to the limited number of employees, thus, increasing security.
Contact Altamira today
We certainly hope you enjoyed the read regarding the modern ERPs in the manufacturing business. Undoubtedly, they will impact your business for the better by aligning the platform with long-term business goals. Contact Altamira to learn how we can enhance your company logistics with ERP installation. Visit our website to learn more.