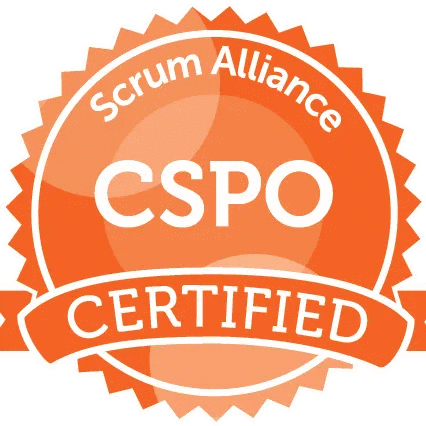 Scrum is a framework integrating agile methodology to address complex business environments. It is used to develop, deliver and sustain products by a different set of rules and protocols. This approach is adopted in many sectors like research, sales, etc. The Scrum Framework comprises three roles with different purposes and functions: Scrum Master, Product Owner, and the development team. It is said that being a Product Owner is an important and challenging job as they are responsible for prioritizing the product backlog and much more. If you are interested in business side projects, then this might be your go-to destination job. If you aim to become a certified Scrum Product Owner, you might want to complete the CSPO certification.
About CSPO certification
CSPO certification is offered by Scrum Alliance, a non-profitable organization aiming to develop candidates in the 'business side' project. CSPO is a globally recognized credential known to provide constructive training on becoming a successful Product Owner. It trains candidates on on-time maximum delivery of quality releases, and maximum return on investment (ROI). It validates the candidates to learn about Scrum expertise whilst letting you take on the roles and responsibilities of Product Owner. The Certified Scrum Product Owner certification (CSPO) is a foundational course that enables scrum owner training. It is exclusively for the stakeholders who participated in an Agile Scrum team. This certification will deliver fundamentals that are known to be central product ownership principles. The fundamentals which are addressed are listed below:
1. Analysing the differentiating factors of a certified Product Owner.
2. Communicating with the development team and developing strategies for full releases of products.
3. Communicating with the end-users or customers and receiving feedback, suggestions, and critics.
4. Developing and maintaining product backlog to ensure full releases of products.
5. Validating the candidates to observe and manage stakeholder expectations as Product Owners.
To summarize, it is an excellent certificate that provides a piece of general information regarding Product Owners and agile methodologies and the roles and responsibilities of a certified Product Owner. Even though you have no prior experience with Scrum agile methodologies, this certification will deliver the best resources to strengthen your skills.
CSPO certification is a two-day certification. The duration for the live online training is about 14 hours, and the in-person training takes around 16 hours to complete. The online training will offer all the necessary details about the Scrum framework and becoming a successful Product Owner. The authorized trainer or educator will also provide training materials like workbooks, presentations, and online resources. The candidates are trained to provide the best satisfactory services to delight the customers.
If you're an aspirant who wants to learn about Scrum and agile methodologies, this certification is for you. But work as Project Manager, Developer, Product Owner, Architect-Software development, Product Manager, Software developer, Software coder, Software tester, etc. You can also take this certification to acquire a higher position in a team.
Why should you take CSPO certification?
If you have a CSPO certification, your chance of getting hired by employers will increase. It would also add much more value to your resume as CSPO is a highly recognized certification. One can bring in $101,459 per year on average as a CSPO certified Product Owner.
If you want to make your career as a product owner and have not much knowledge yet, a classroom course such as CSPO that provides all the necessary details is recommended. Users, in this case, can also take by acquiring proposals and insights.
Also Check: How to use AWS technology
Criteria for taking CSPO certification
There are no eligibility criteria for one to take this certification as of now.
Candidates are required to take a two-day CSPO course to complete this certification. Note that there are no exams to earn the certificate. But you have to renew your certification every two years as the certification is valid for two years only. Even though you are new to Scrum Agile practices, you will provide with best services. However, it is suggested to go through some guides and books to know the background information regarding Certified Scrum Product Owner.
Conclusion
A career as a certified Product Owner is stable and satisfying. A certificate from reputable credentials would elevate your chances of getting hired by employers.