Business
Table Numbers – A New Way To Give Your Guests A Larger Part In The Day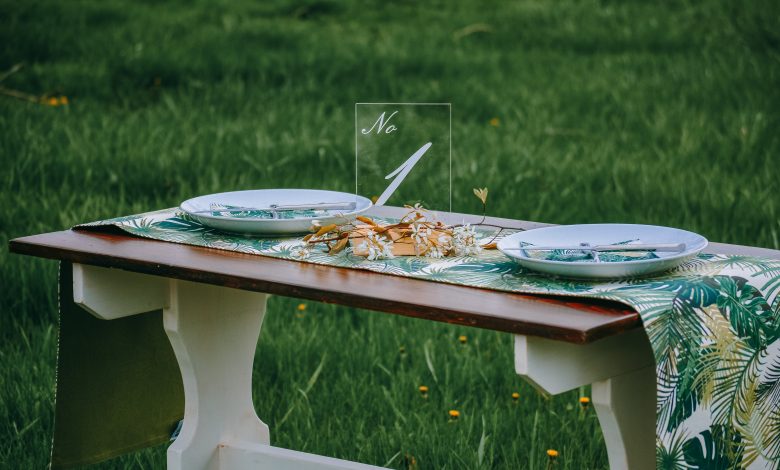 Besides helping all of your guests easily find their seat, wedding table numbers add a touch of elegance and sophistication to your wedding reception venue décor. The beautiful wedding stationery accessory can surprisingly be used in additional ways, that can give your guests a larger part in your big day.
If you'd love to get your VIP guests more involved in having fun of your wedding day, here are 5 inspired and creative ideas…
Get The Conversation Started
Not everyone that you send a luxurious personalised wedding invitation to will know other people at your wedding. Most couples getting hitched have a guest list that comprises of family members, close friends, work colleagues and acquaintances. That's a lot of people to mix and mingle with, and to remember names!
To help guests relax and enjoy the special celebratory occasion, it's a great idea to supply a few conversation starters. When laying out the tables, at your venue, place your elegant on-the-day stationery at each setting, and add corresponding place cards that feature a few suggested topics of conversation. Guests can take turns asking each other questions and discovering interesting things about people they are just getting to know.
Another conversation inspiring idea you can try involves creating a single Fact Sheet that you can place in the centre of the table. Your themed conversation starter can be a mini quiz all about you and your partner, exotic places around the world you have visited together, or an interest that you have in common. As guests make their guesses, they'll be able to share stories about the happy couple.
Offer Photo Opportunities
Every newly wed couple wants to have photos of their guests enjoying themselves at the reception party. However, it's not always possible to get a snap of everyone. Creating a photo opportunity for your family and friends, whilst they are comfortably seated at the tables, will provide you with plenty of candid shots and great images that your busy professional wedding photographer would otherwise miss.
You can place a disposable camera on each table, beside your beautiful and elegant wedding table numbers, and a short list of instructions. Be as creative as you like, when asking your guests to pose for a selfie. Or alternatively, allow them to surprise you with their unique ideas.
If you don't have an 'unplugged' rule on your wedding day, invite your seated guests to take photos of each other using their mobile devices. Although you may end up with tons of texted pics, you will also have a great selection to choose the very best from. Have your favourite images printed, and feature them in a special guests-only wedding photo book that can be personalised with captions and comments.
Read Also: Are Wireless Earbuds Beneficial?
Encourage Friendly Competition
The wedding table numbers that you feature on each of the reception venue tables provides an excellent opportunity for your guests to engage in some friendly competition. Introduce a fun element to your entertainment, by planning a variety of amusing games and quizzes that require tables to pit their wits against each other.
If your wedding has a specific theme, you can base your table competition on it. If you drew inspiration for the theme of your wedding from a romantic novel, a sci-fi movie, or a musical, you should be able to research suitable quiz type questions online, without too much difficulty.
To make the game playing more exciting, be sure to announce a prize for everyone seated at the table that has the winning score. Prizes of novelty favours and mini gift bottles of booze could well do the trick of tempting reluctant guests to join in the fun.
Excite With An Itinerary
Guests that have joined you and your beloved, to celebrate your nuptials, will naturally expect the reception event to have some sort of itinerary. To complement your stylish and bespoke table stationery, you could also provide an itinerary for guests to browse and talk about.
List a breakdown of activities that include the wedding breakfast and speeches, the cake cutting ceremony, the first dance, and live entertainment. If you're a bit of a wordsmith, you could write the information in a riddle format or a poetic way that intrigues your family and friends, but keeps them guessing.
Let your creativity run wild, in coming up with wonderfully original ideas to excite and entertain your guests. Remember to mention all of the little extras that help to make your wedding a memorable occasion. Don't forget to also suggest time slots for the photo booth, crafts workshop, cocktail mixing class, and disco dancing.
Personalise Your Guest Books
Instead of having a single guest book circulating around your wedding reception venue, you could always opt for a mini guest book for each table. Provide pens, and ask your guests to write personal messages, best wishes and notes of congratulations, in the pages of the books.
Choose mini notebooks with coloured covers that complement your wedding palette, or decorate the covers yourself. As guests study your table plan, and go in search of the corresponding wedding table numbers, they will have ample time to gather their thoughts about what they would like to write as a memento in your keepsake guest books. They will also have fun passing the mini book around, and reading the thoughtful, sentimental or hilarious comments that other people have written about you and your new spouse.