Travel
5 Best Types of Trousers for Outdoor Activities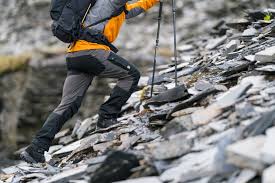 If you are going to spend some time outdoors, you need to dress appropriately in order to protect your legs, walk or hike with ease and deal with the elements of weather or environment you are in. Here are different types of trousers that you may consider for your outdoor adventures.
Waterproof Trousers
As the name suggests, waterproof trousers keep you dry when you explore the outdoors during the rainy season or in areas with lots of water. There are choices of next-to-skin or pants that you wear over your regular ones.
When buying trousers which are waterproof, you may consider the technology used, such as Pertex and GORE-TEX. You should also check for taped seams as they keep the water away from the stitch holes. A breathable fabric is also good as it aids in skin ventilation, thereby avoiding you the discomfort of getting sweaty. If you're wearing over-the-clothing waterproof pants, look for ones with side zips so you can wear and remove them without taking off your shoes.
Walking Trousers
Walking trousers are made to last longer and provide more flexibility than your average trouser. It performs better in outdoor activities such as hiking and biking, where flexibility is required. While you can walk for shorter distances with any pair of trousers, you will be more comfortable and walk more conveniently when you wear the walking trousers and a pair of walking boots.
When buying walking pants, consider one that is made with breathable fabric if you are walking during warm weather. It should also have favorable UPF ratings to protect you from UV rays. There are also some options with zipped vents to provide additional ventilation and a ripstop fabric to reinforce the material around the knees and the seat of your pants from damage.
Softshell Trousers
Softshell trousers are made from highly technical materials that provide weather resistance, are highly breathable and have high stretch. They make for a great alternative to regular pants. Besides, due to their flexibility and breathability, they make great outdoor trousers.
Many of these trousers are also abrasion-free and highly durable, which makes them a great option for high-risk activities like mountaineering and hiking. You can also wear them for city walking, running, climbing or bouldering, hill walking and trekking. They can be worn with regular or outdoor boots.
When purchasing these trousers, go for quick-drying fabric to handle the varying weather conditions out there; insulation if you are wearing them in the cold season; and a close fit if you want to participate in fast-paced activities such as jogging and city walking. In the same breath, go for articulated legs for greater flexibility if you're doing lots of walking. If you wish to have a pair of water-resistant pants, go for ones with a DWR finish.
Leggings
Leggings are close-fitting trousers that can be used for several activities and can be worn in any season. They are highly versatile and can be used in various outdoor activities such as trekking, running, climbing, mountaineering, and hiking. You can wear them with any shoes, including hiking boots. There are two main types of leggings: those that are worn underneath other pants to keep you warm during the cold months and those that can be worn on their own.
If you are looking for ones to wear on their own, check for the fit and thermal insulation. All types should also be made from sweat-wicking materials for comfort, have concealed pockets for safety, and an elasticated waistband for additional comfort.
Read Also : Here's Everything You Need To Know About IPL New Matches
Convertible Trousers
Convertible trousers are made to be worn across different weather patterns. Most of them zip off at the knee and allow you to wear shorts when the weather heats up. You can then put the bottom on again when it gets cooler. You can wear them for different outdoor activities such as trekking, city walking, traveling, running, and climbing.
When buying convertible trousers, go for UPF rated, lightweight but flexible materials. If you intend to wear the pants during wet weather, go for ones with DWR finish to keep you dry all day. You can also check for ones with a stow pocket for additional space for small items during your walking. The shorts may also have a rolled-up hem for additional versatility.
What do you want to do outdoors? Consider buying the right outdoor apparel, including trousers. Remember to check the material, size requirements, flexibility and comfort of any trousers you buy for your outdoors. If you are active all year round, consider all weather types or buy pairs for different seasons. With the right trousers, you enjoy your outdoors, are likely to suffer less injury and can deal with the outdoor weather without risking ailments. Select the ideal trousers from the list above based on your outdoor requirements.