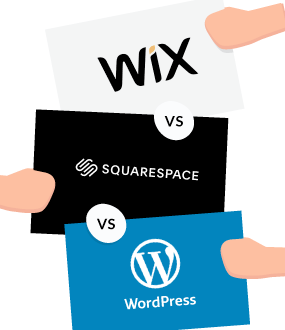 If you are looking to create a new website, surely you have found some alternatives that go beyond that if you want to do it with a designer, or if you will resort to doing it yourself. Today, WordPress, Wix, and Squarespace are probably the three most popular ways to build websites, so we've put together this overview so you can get your bearings and choose the best one. When it comes to building a website for your business, you will have a few things to weigh, and the step of choosing a content management platform (CMS) like WordPress or a much simpler web builder will be decisive for you to get started. but it is also a decision for the future; Since if you opt for one and manage to publish your website, if you want to change later for another, you will have to make inhuman efforts,
The most noticeable differences between WordPress vs Wix, vs Squarespace
We will go to a more refined comparison in the following sections, but we think it is useful to start with an overview of how each of these tools can help you to build your new site.
Generally speaking, Wix and Squarespace are quite similar, while WordPress uses a different approach. WordPress is an open source website builder that is installed or already pre-installed on a hosting , so you will be the one who takes control of this software. Something like buying your own land and building your house within it. In practical numbers, more than 35% of the sites on the entire Internet are made in WordPress, as we already told you in our WordPress infographic that we published on our blog a few months ago. Also, you should keep in mind that when we talk about WordPress, we mean WordPress.org, since there is also a version on WordPress.com that has similar features and limitations to Wix or Squarespace. If you want to delve into the latter, read this other note: difference between WordPress.org and WordPress.com .
Wix vs Squarespace
Wix and Squarespace, on the other hand, are website builders with hosting included, which means that the provider takes care of hosting the builder software for you. This at first glance seems friendly, but in reality you will not be entirely the owner of your own content, nor will you know where it will be stored. The main ease of Wix and Squarespace is that by registering you can start building a new website. Since we were doing comparisons with the real estate market, think of Wix and Squarespace as renting an apartment in a condo where management takes care of keeping everything up to date.
Also, at the popularity level, neither Wix nor Squarespace come close to WordPress' marketshare, and each one feeds just under 1.5% of the world's websites, something that WordPress was able to conquer very well. So much so that large companies such as the Fortune 500, The Walt Disney Company, Microsoft News Center and SONY Music used WordPress to create their websites.
What is Wix and what are its features
Wix is ​​a super easy to use drag and drop page builder that will do most of the work for you. The reality is that for the most detailed, this is a limitation rather than a goodness, and almost all sites look similar despite the hundreds of designs you can find. Wix Development Company in Lahore also provide this opportunity.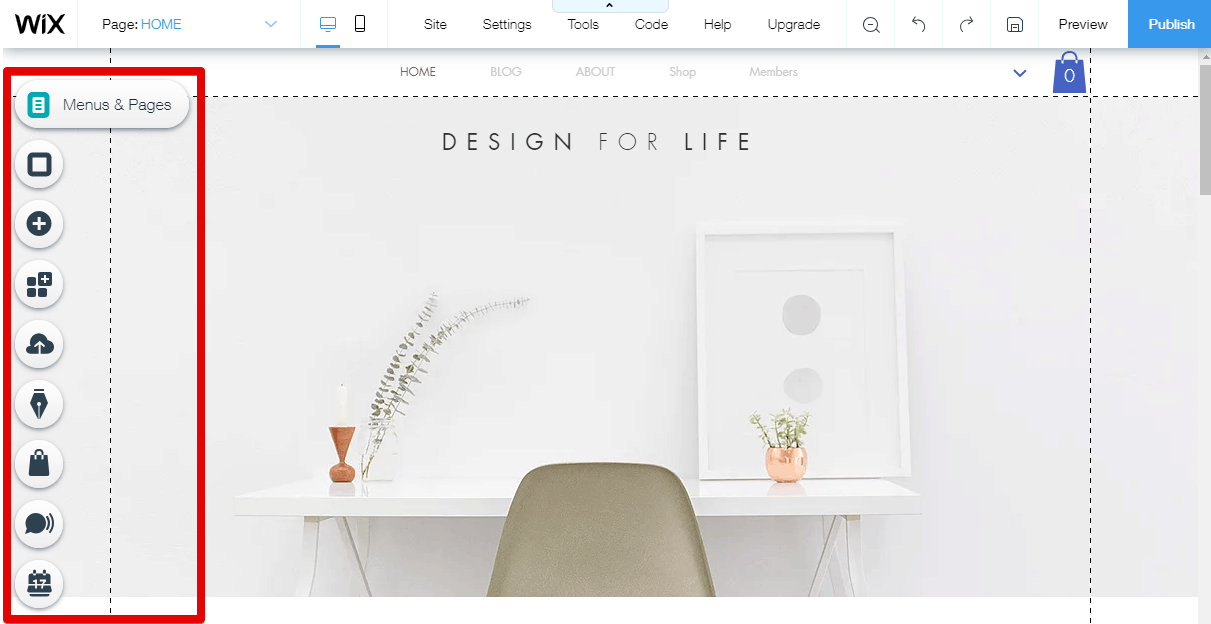 Level of complexity
It takes no more than a couple of minutes to sign up, choose a template and start customizing website content by dragging and dropping text and photos. You will not have to worry about the technical aspect of Wix either as it handles hosting, security and you can even buy a domain if you want (a little more expensive than normal, by the way).
Designs
You can choose from hundreds of templates, all very similar, but each one oriented to a type of site or business. The designs look really modern, but they also look like a template site with little personality, and many users switch to WordPress as they don't like the aesthetic finish of their website.
Added features
If you want to include something as basic as a blog, or a shopping cart, you will have to integrate it as part of the site, which can affect its performance. The same goes for apps that add forms, pop-ups, and other digital marketing essentials. Of course, blogging with Wix is ​​not the most comfortable, but it will allow you to publish some texts from time to time. If you are adding a shopping cart to your site, it only supports a few currencies.
Scalability
Wix is ​​a good option for creating a very simple website, or for hobby sites. If you plan to do something else, or set up a website for your business, we recommend not starting with Wix since it will not allow you to integrate more functionalities, it does not include mail @ your domain, nor will you be able to move the site to another provider without having to start over. right from the start.
SEO and search engine optimization
Despite the fact that several aspects that make the positioning of websites made in Wix have been improved, the result that is achieved when trying to position it in the search engines is very poor, and this is an important point so that new customers can find you.
Technical support
Wix offers a fairly robust Help Center, and non-subscription customers also have the option of non-priority, guidance-based online support, while paying customers get priority phone support.
Investment of money
Wix offers a variety of plans, however some of the cheaper ones even include Wix advertising on your site. Realistically, if you are a professional, you will want to opt for a business plan, which approximately costs between $ 15 to $ 30 dollars a month without counting the domain, whose value is $ 15 dollars a year.
What is Squarespace and what are its features
Squarespace is another website builder platform, which is not only easy to use like Wix, but also includes some very basic marketing and ecommerce features. For the rest of its characteristics it is very similar, and we will show you more in the following detail.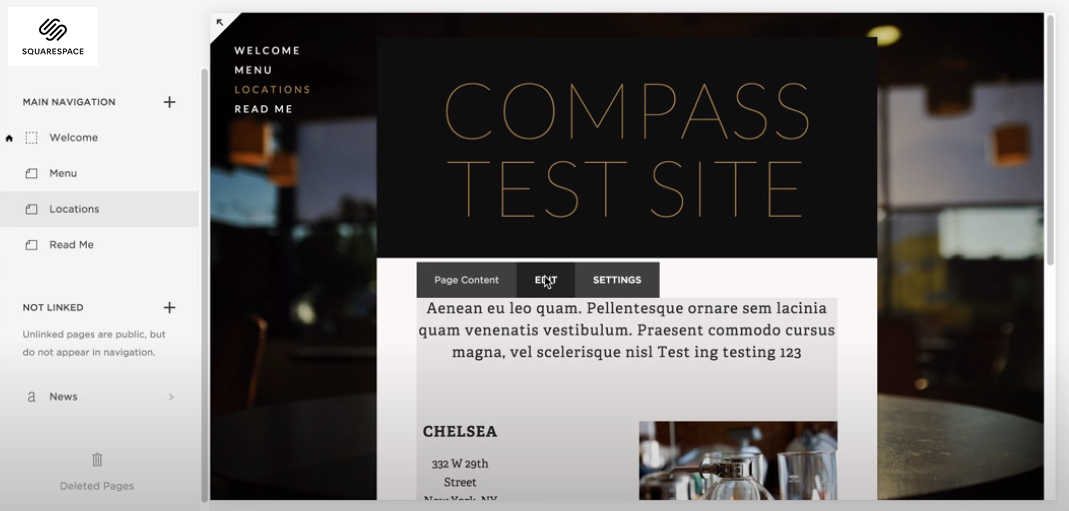 Level of complexity
Squarespace is not a difficult platform to master either, but the approach it has to start using the service has caught your attention.
Designs
Although you can't create a website from scratch and the number of templates is limited, the details you'll get in Squarespace will look better than the previous option using certain templates.
Added features
Most of the templates are feature-rich, so if you're looking to build a basic website, you shouldn't have to do too much. If you are adding a shopping cart to your site, it only supports a few currencies as well.
Scalability
As with Wix, you won't have too many alternatives to scale your website. Squarespace does not have a plugin directory, and any plugins you may need will need to be added via code snippets, as long as it is allowed. Because of this, Squarespace is best if you want a nice, yet simple website that tells people who you are and what you do.
SEO and search engine optimization
You can't do much about search engine optimization, except writing search metadata that contains a few keywords, but nothing much more advanced than that.
Technical support
Squarespace also has an FAQ and knowledge base that allows you to handle any situation that is expected or not. Also, from time to time, the provider organizes live events and provides video training on how to use the tools. Support is via chat, inquiries from the customer area or telephone.
Investment in money
The only difference with Wix is ​​that Squarespace does not offer anything for free beyond a 14-day trial period, and the cost of the different plans range from $ 16 a month, to $ 50 a month if you want to set up a more professional site and an online store. Also, if you want to have your own domain, it will cost you an additional $ 20 a year.
What is WordPress and what are its characteristics
We will talk here about WordPress in its WordPress.org version. WordPress is a very powerful content management system, which goes much more hand in hand with those business owners who do not want to have limitations when adding features to accompany the growth of their business. As it is such a transversal and versatile solution, it allows you to adapt the website starting with an institutional site, then adding a blog, and then a shopping cart if you wish. All this, activating features, for which you will not have to pay additional money for them.
As we told you before, WordPress has proven to be so powerful and convenient, that more than 35% of the Internet sites use it.
WordPress Hosting
WordPress is not a "hosted" site builder like Wix or Squarespace, which means you will need to buy a domain and hosting first, but don't worry, providers like WNPower will help you install, maintain and be there when you have a problem. Why don't you check out WNPower WordPress Hosting ? We will be happy to accompany you in every step and we have created dozens of tools and functions so that nothing stops you.
Easy to use
WordPress is highly customizable and the included web builder is very easy to use. Even if you don't like this, you can install a different one if you wish. Check out how customizable it is 🙂. Although you might be overwhelmed at first with all the options it offers, after you go through it for a few minutes, you will gain confidence and begin to fill your site quickly.
Designs
There is no better option for designing a high-impact, professional-grade website. WordPress templates are called themes and there are thousands of them depending on the type of website you want to build. See how many theme options there are to choose from.
Added features
Once again, WordPress takes the lead when it comes to adding features. From the moment you start using it, WordPress comes with some basic features, like a blog and pre-built pages, but if you need additional functionality, you can add as many functions to your website as you can imagine. Within its repertoire of plugins, you will find shopping carts, integration with social networks, CRM solutions, photo galleries, web directories, digital marketing tools and thousands of other things. Virtually everything is possible with WordPress.
Scalability
We should remove this title as there are really very few limits with WordPress. If you can think about it, you can take it forward.
SEO and search engine optimization
In its initial installation it only takes into account some basic aspects regarding search engine positioning, such as the formation of the internal URLs of the site. But if you want to go deep, you will find many add-ons to maximize the SEO of your site and improve the positioning even if the website is new on the Internet.
Technical support
WordPress.org does not provide direct assistance as it is an open source project, but if you need help, you will find documentation everywhere and even online communities. At WNPower we have hundreds of articles about how to manage a WordPress website, we have our own community, and we offer telephone help and online consultations to our clients.
Investment of money
WordPress is free, but you will need a hosting, which, far from what you have read above, there are offers that will go from $ 3 or $ 4 a month, to $ 40 or $ 50 a month if you are going to implement a very advanced site and wait very high visitor traffic. The reality is that for an average site, you should not spend more than the minimum that we mentioned.
Final conclusion
By comparison, WordPress is far more powerful than Wix and Squarespace. Of course you will find very attractive websites designed by these website builders, but remember: you will not own all of your content, and you will have to adapt it to the template you are going to use. WordPress, on the other hand, adapts to you.